About Dan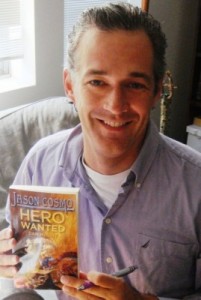 WELCOME, LOYAL READER!
Thanks for stopping by.
My newest book is Deepfire, first in my new Jack Scarlet modern-day pulp-style action adventure series. The most recent entry to my my Jason Cosmo fantasy adventure series is book three, Royal Crush.  I also wrote Magicka: The Ninth Element, from Paradox Books, a short novel about Wizards, set in the world of the Paradox Interactive game Magicka.
(Before you read on, let me mention you can get a free copy of my Jason Cosmo novella Rainy Daze. Yours to keep!)
I am best known, if I am known at all, as the author of the Jason Cosmo fantasy adventure series. I love writing stories of adventure, magic, and suspense. My stories are usually (but not always) tongue-in-cheek.
My first book, released in 1989, was the fantasy-comedy Jason Cosmo, followed shortly by Royal Chaos (1990) and Dirty Work (1993). The original versions of this Classic Jason Cosmo Non-Trilogy went out of print in the last century.
In 2009, I rebooted the Jason Cosmo fantasy adventure series with Hero Wanted, followed by Noble Cause and Royal Crush. I retold the story from the beginning. #1 Hero Wanted is a revision of the 1989 book Jason Cosmo. #2 Noble Cause is all-new. And book #3 Royal Crush, revises Royal Chaos. Next will be #4 Dirty Deeds. (The Jason Cosmo novella Rainy Daze is set between chapters of Hero Wanted. Again, you can get it free here.)
I think the new versions are better because I am a better writer now than I was then. But for those who love, or are curious about, the original Non-Trilogy versions, they're all available as ebooks, including an omnibus edition.
(For a fun introduction to the world of Jason Cosmo, listen to this hilarious audio drama adaptation of Chapter 1 of Hero Wanted from The Drama Pod! It runs about 16 minutes and is a free download.)
Other stories include Sarah Palin: Vampire Hunter a horror-parody novella I wrote at that strange moment in time when Twilight and the former Governor of Alaska were major pop culture obsessions.
Beginner's Luck is a horror-comedy short story about a would-be serial killer.
Jack Scarlet: Bullets for Breakfast and Jack Scarlet: A Cold, Cold Place to Die are flash fiction vignettes starring my 21st century technopulp action-adventure hero, Jack Scarlet.
Here's an "About Dan" fact for you: my mother is award-winning romance author Andrea Parnell. How cool is that? My publishing company Trove Books is republishing her historical and contemporary romance novels, along with her new works.
I'm running out of things to tell you. I am a member of the writer organizations  Science Fiction & Fantasy Writers of America (SFWA) and Novelists, Inc (NINC). I am also a member of the National Geographic Society (for the magazine, which I use for research all the time) and the American Automobile Association (for the free towing, which I use more often than you might imagine.) I have possibly joined other organizations that have slipped my mind.
If you made it this far — thanks for reading! I hope to see you again soon!