Greetings, Loyal Reader!
My new book, Deepfire: A Jack Scarlet Adventure is now available worldwide as an ebook on Amazon, iBooks, Kobo, Barnes & Noble, Smashwords, and other retailers.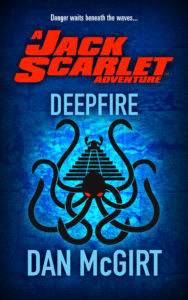 Jack Scarlet is a modern spin on the classic pulp adventure heroes of yesteryear, mixed with influences from comic books, 1980s action-adventure films, and the over the top James Bond films starring Roger Moore and Pierce Brosnan. (Gadgets. It's all about the gadgets.) Deepfire is a fast-paced , fun, free-wheeling tale of derring-do and bravado – and the occasional bad pun. Here's the blurb:
Danger waits beneath the waves…
A desperate call for help propels action ace Jack Scarlet to the Gulf of Mexico to stalk a sea monster, battle an army of ruthless mercenaries, outwit a scheming dictator, and find a vanished research ship and the sexy scientist who disappeared along with it.
Jack Scarlet and adventuring partner Galahad plunge into the deep end of trouble when their search leads to a mysterious offshore drilling platform controlled by a sinister energy company — and then to the secretive island republic of San Marcos, whose president has plans to topple the world order. That's bad enough.
But the greatest danger lurks beneath the sea, where an ancient power man was not meant to disturb is now awake — and angry. Is the kraken a myth from old sea stories, or is it real? Jack and Galahad are about to find out in a nautical adventure that may be their last.
Heroic genius inventor Jack Scarlet loves to test himself and his creations against the most extreme challenges. But this time he may be in over his head, and not even Jack's sentient super-yacht, railgun pistol, and other death-defying gadgets may be enough to save the day.
A special thank you to all the Loyal Readers who pre-ordered Deepfire. Your copy should have been automatically delivered to your reading device by your retailer of choice. Everyone else – here's where you can get Deepfire today:
I hope you enjoy Jack Scarlet: Deepfire!
Best regards,
Dan McGirt