Greetings, Loyal Readers!
My official sale of a short story! My story "The Red Hook Incident" will appear in the upcoming anthology Strange Arcana: The Stars Are Right, from Sigil Entertainment. More on that soon.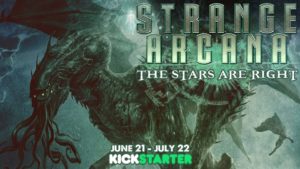 I know what you're thinking – Dan, you've published multiple novels. You're telling me you've never had a professional sale of a short story before now?
Yes, that's what I'm telling you. When I first set out to be "a writer" in my teens I wrote and submitted a couple of fantasy short stories because I thought that's what you were supposed to do: start with shorts and work your way up to writing novels. None of my short stories sold, Jason Cosmo did, and I decided I'd stick with novels, which are much easier to write!
So it's not like I've been trying to sell a short story. I haven't even written any, until last December when I wrote story to submit to a different anthology. No word on its fate yet.
Well, I did dust off my short horror comedy tale "Beginner's Luck" and release it as an ebook a few years ago, but even that was written as the prologue of a novel I never got around to finishing.
A few weeks ago, Sigil head honcho Aaron Acevedo invited me to write a story for his Strange Arcana project, a new RPG setting involving superheroes and eldritch horror. I submitted "The Red Hook Incident", inspired by H.P. Lovecraft's 1925 story "The Horror at Red Hook". (I confess to shamelessly stealing Lovecraft's setting and liberally helping myself to some of his adjectives along the way.) Aaron liked the story, so I'm counting it as a professional sale.
Stay tuned for more on the actual story and the Strange Arcana project soon.
Best regards,
Dan McGirt